Black magic...my new interiors obsession and how to style it
No, this blog post isn't inspired by Little Mix's slice of perfect pop. Though I'm not ashamed to admit that I do think it is an absolute TUNE. Anyway, I digress. The point is this...
If you'd have asked me a couple of years ago about my thoughts on using black in interiors, I would have put it in the same category as beige....aka avoid like the plague. I rarely wear black myself and I'd always favour gold (obvs), brass, marble and dark woods like teak or walnut, over black as an accent. BUT a funny thing has happened to me and I've noticed my tastes have been slowly shifting over the last year and I'm now in the throes of a fully fledged love affair with black accents. And more specifically matt black and powdered steel. The moment I realised this had become a major crush for me was a couple of weeks ago at the preview of Tom Dixon's AW17 accessories preview, when the collection that made my heart sing wasn't the brass or copper, but the new iridescent black cafetiere set (above),
The thing I've come to realise about black is it's capacity to ground a room in an instant. And I think this is why I've become such a fangirl. Once the gold wallpaper went up in our living room, I loved it, but I was very aware of not overdoing the bling. Gold and brass look brilliant against the deep dark Basalt walls but there is such a thing as too much of a good thing. And ever since then I have been slowly swapping out some of the shinier elements for matt black accessories. I've swapped the brass floor lamp for a simple powdered steel Edison bulb lamp and I've added black paper plant pots from Etsy. A black fish eye mirror also helps to tone down the super snazzy cocktail alcove.
And it's not just about toning down the bling. That was just the beginning. I've also incorporated a matt black Tangle pendant into my kitchen makeover (it's almost finished and I'll post it soon I promise, but I've been waiting forever for the fabric for the window seat to be restocked!). This time I used the black to ground the pink of the cabinets and make the whole thing a good deal more grown-up, not to mention the fact this light is cool as f**k.
Because what I've realised, is that matt black accents are the go to if you want to inject a dose of instant cool into a room. The key is not to overdo it. It only takes one piece, or even one detail on a piece of furniture to work it's dark magic.
To inspire you to give it a go, I've put together some of my favourite rooms which demonstrate a masterful use of the black stuff, followed by my round-up of the very best matt black pieces from the high street...and a few splurge items in there as well.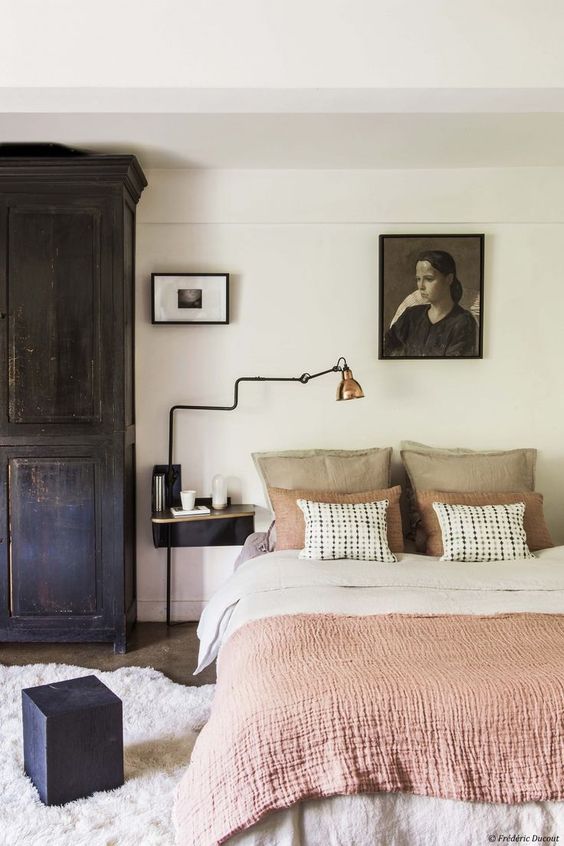 This biscuit and blush pink scheme could look a bit meh, but the bedside lamp, black picture frames and hard edges of the cube stool against the fluffy white sheepskin rug give it a cool, contemporary edge. I want to move in here.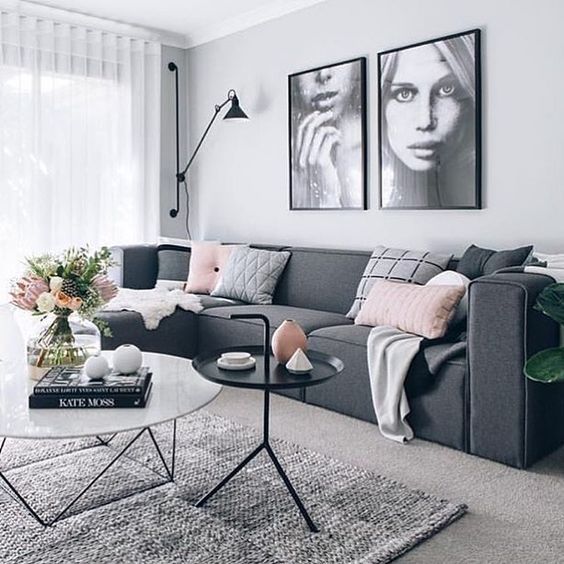 The black wall lamp and Hay DLM side table give this classic grey and pink Scandi setting the required va va voom.
Instead of going with the obvious choice of a marble table top here, the black table and dining chairs at Milan hotspot T'a Milano bring a masculine edge to the super glam brass chandelier and teal velvet booth.
Image via Habitually Chic
I honestly don't think I'd look twice at this scheme if it wasn't for the Flos pendant light and the shelf brackets. But the matt black against the rough luxe texture of the freshly plastered wall gives it a major wow factor. Black notebook optional.
Image via Garcia Cumini
I really should hate this room. I don't do 70's browns and oranges. But the classic Mouille pendant and the Harry Bertoia Diamond chairs drawing the eye down to the black and white photographs make the orange and the brown somehow totally acceptable to me.
I actually interviewed Myleene Klass in this house (it's not hers, it's a location house) and I spent the majority of the time pondering why it was that a blush pink room didn't feel overly girly (this was way before millennial pink was a thing). I worked it out in the end and went back to giving Myleene my undivided attention. Of course it was the black wall sconces, table lamps and pendant light.
Image via Mel Yates for Living Etc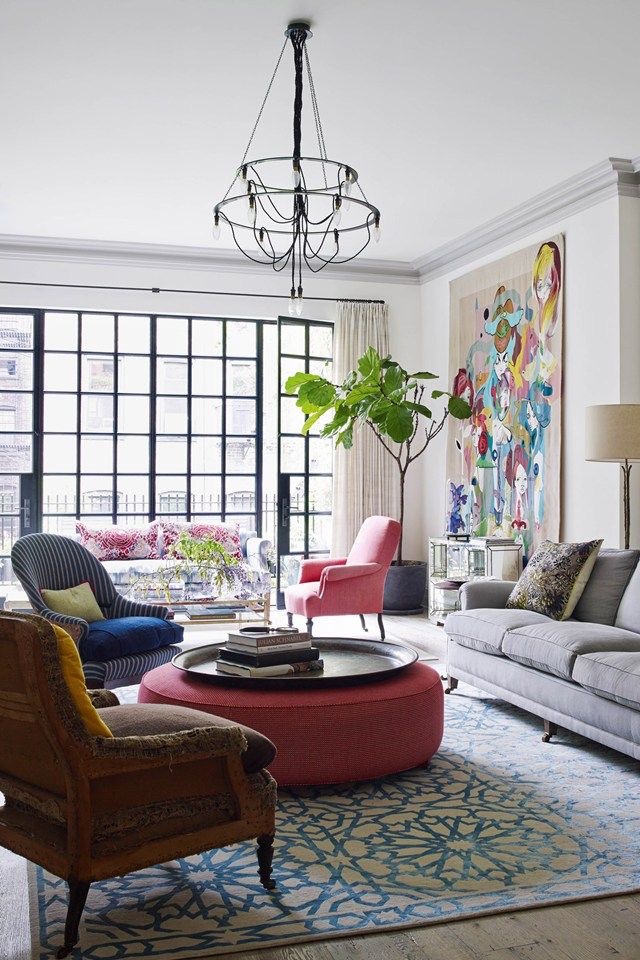 This was my entry for #dreamroomgoals for Insta queen Lisa Dawson and she agreed as it made her top 12. I couldn't do a blogpost on my love of all things matt and black without making a nod to my beloved Crittal. I love the grounding effect of the industrial warehouse style steel set against this super chic celebration of colour and pattern.
Image - Basil Walter for House & Garden
Now for the best bit...the shopping! (All images are clickable)
GET THE LOOK